Finding Volunteer Opportunities
STUDY OVERVIEW
RESEARCH QUESTION
Can the ways people search for volunteer opportunities give us insights for designing technologies that connect people with volunteer opportunities?
MY CONTRIBUTIONS
Literature Review
Ethnography - field notes and affinity diagramming
Interview - conducting and open coding
Survey - writing and analysis
Infographic
Persona writing
Report writing and editing
Major Takeaways
The findings serve as recommend improvements on how organizations attract future volunteers. We hope to advise them on how to streamline the process of signing up, how to provide information on specific activities, and how to appeal to high quality volunteers. We also want to help volunteers find engaging experiences. The following is a summary of the design recommendations (for more details, see "DESIGN RECOMMENDATIONS" below):
Place Opportunity Details Up Front in the Information Architecture
Build Scheduling and Calendaring into your volunteer sign up interface
Advertise other benefits to volunteers (skills to learn, reasons volunteering with make a difference)
Offer Flexible hours for opportunities
Have Social Presence so people can tell their friends about their volunteer experiences
Email Marketing represents an easy, but only mildly effective way to attract volunteers
Observations
Four participants
Asked to find three volunteer opportunities
Affinity diagram
Interviews
Four participants
Structured interview
Open coding
Survey
39 participants
Qualtrics
Statistical analysis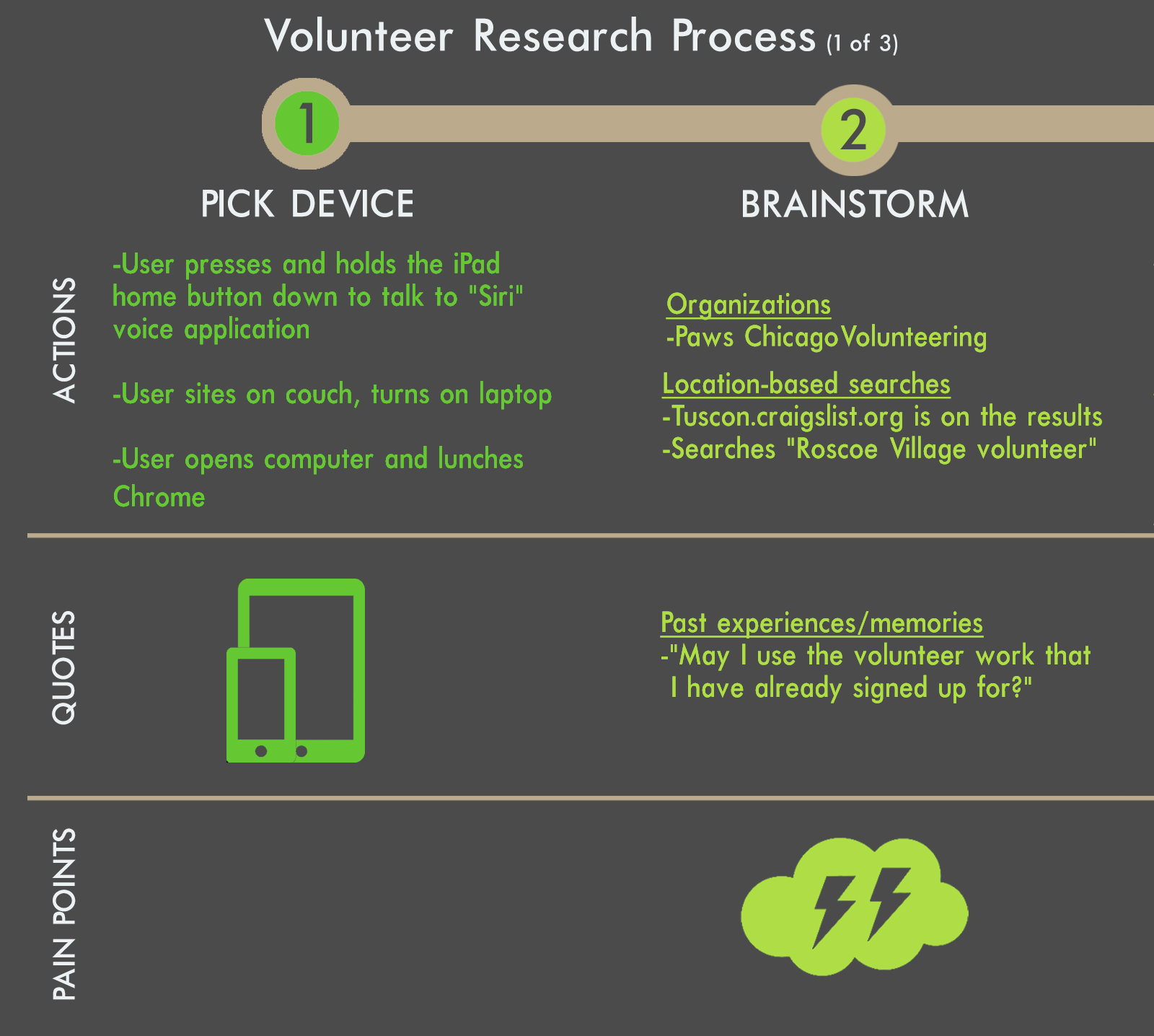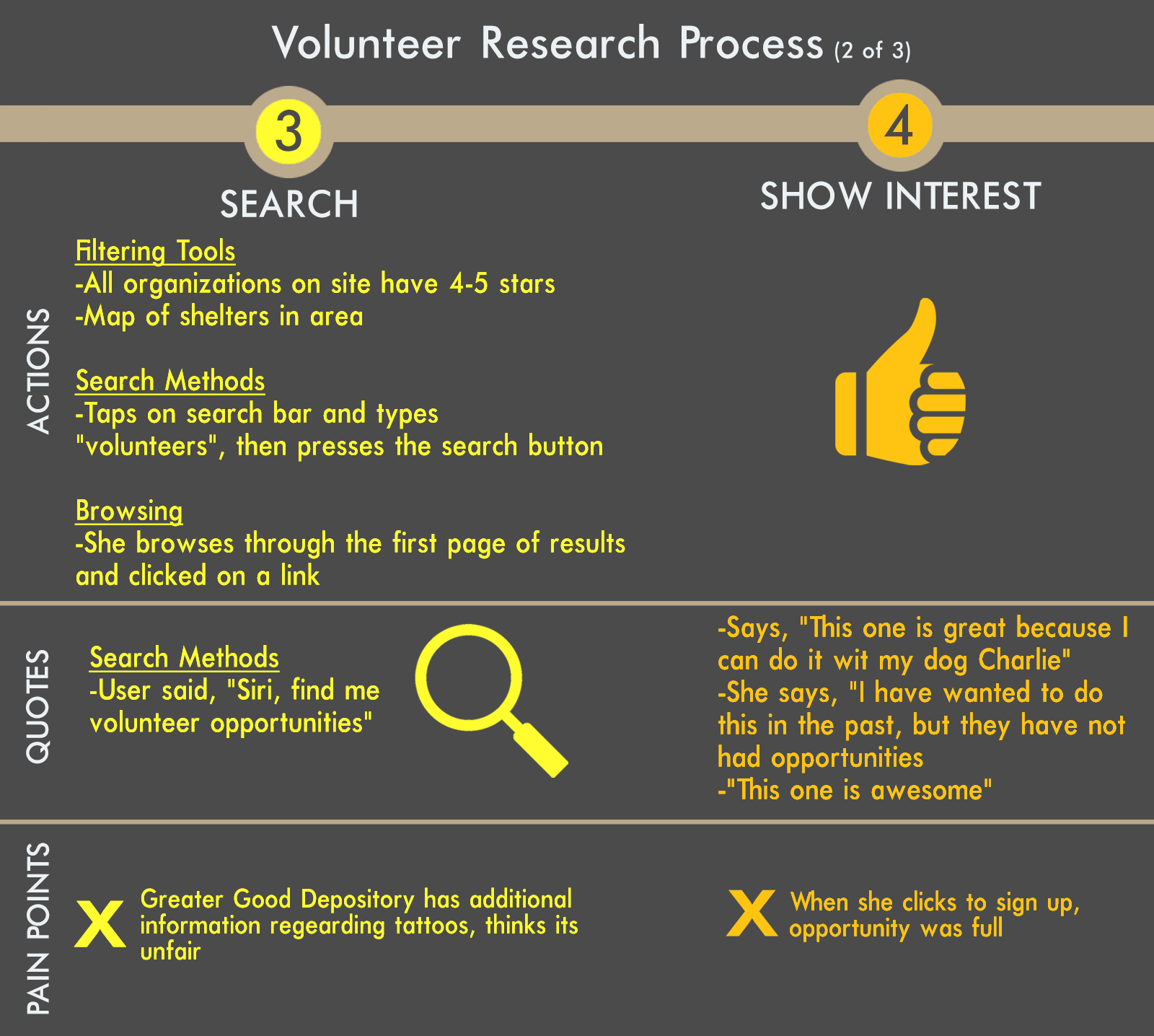 Users begin by determining their search method
Device choice
Search engine choice
Search term choice
Users then began to browse through the results in their research process
Looking at further details in the search results
Users would cycle through browsing and searching
Clear moments of connection when they decide on an opportunity
When users found an opportunity they were interested in they took the next step
Becomes a linear process from here, less back and forth
They did not worry about scheduling until this step
Here is where UI was the most poorly designed; login pages gave lots of headaches
Interview findings
In the interviews, we noted several themes:
Users rely on various technologies to find volunteer opportunities.
Time requirements and scheduling concerns factor into users' interest in volunteer activities.
Users volunteer for reasons unrelated to supporting a cause, such as learning a new skill or to build their experience for resumes.
Survey FINDINGS
The two hypothesis we tested were:
Users who find activities that align with their interests will commit to volunteering more frequently than users that volunteer for activities that they do not find interesting.
Users that find organizations that present detailed opportunities via the internet are more likely to commit to activities than those who find organizations online that do not have details about the opportunities.
Mostly due to the low sample size, we failed to reject the null of both hypotheses. For the first hypothesis, we wanted to be able to say that our data supports that individuals volunteer for motivations other than their interests, but there were neither strong positive or strong negative correlations between any of the six motivation factors. For the second hypothesis, our results showed that individuals who had received the most detailed opportunity description stated they were more likely to commit to the activity than those who had received the medium description. However, we believe that because this question was randomly distributed to our participants, the low sample size for each description lead to the results not being statistically significant.
Design Recommendation
Our research suggests that designers placing opportunity details "up front" in the information architecture. Participants seemed drawn to opportunities that contained more detail. Also, designers should advertise other benefits of the volunteer opportunity. Most of our subjects were motivated by seeking a form of accomplishment with their volunteer work, so advertising potential achievements could raise interest. We learned that potential volunteers have a variety of different schedules, so we also recommend that organizations offer flexible hours for opportunities. Designers can also help by building schedules and calendars into sign-up interfaces and creating opportunity-detail pages. We recommend that organizations have a social media presence because our participants responded positively to the social influence of their friends and family. Our research results gave us a low turnout on the effectiveness of email based marketing; we only recommend this method as a quicker alternative to having a developed social media presence.
CLICK HERE to download the full 53-page (with Appendix!) report